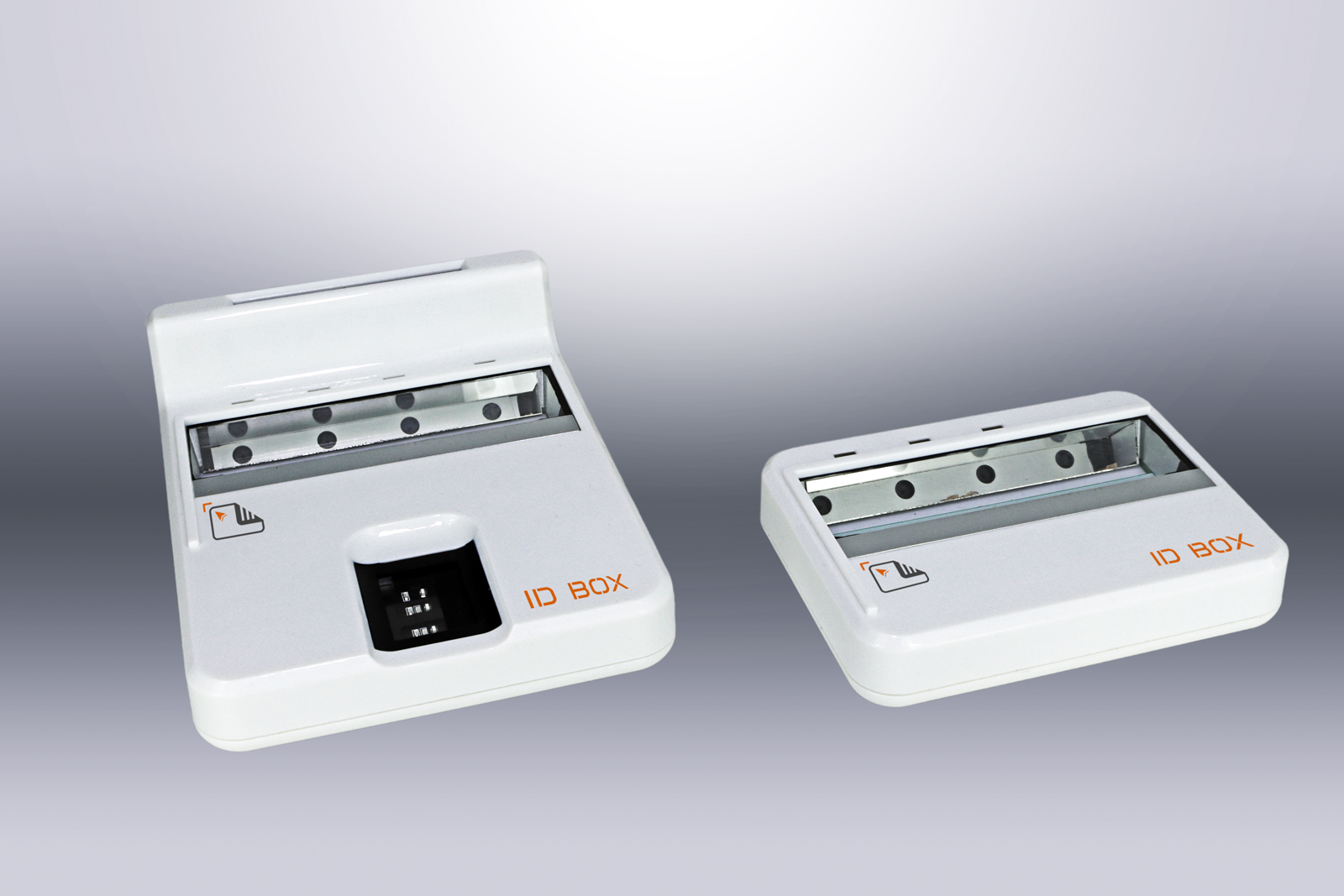 Elyctis announces a technology breakthrough with its ID BOX – ID1 series, the smallest professional e-ID document reader in the world
To answer massively growing market demand for a simple and user friendly yet professional grade identity card reader, Elyctis is proud to introduce the ID BOX – ID1 series, an e-ID document reader for all ID verification situations where professional accurate reading and convenience are essential.
PERTUIS, FRANCE, October 23, 2023 – Elyctis announces the ID BOX – ID1 series, the latest addition to the highly praised ID BOX – ID3 series of professional e-ID document readers. The Elyctis ID BOX – ID1 series has been developed to fit the booming demand for affordable professional e-ID document readers that can be deployed in large volume for all applications where one needs to authenticate an e-ID document and identify the document holder. The Elyctis ID BOX – ID1 reads the MRZ of the document thanks to a high-end dedicated scanner and accesses the chip thanks to a dedicated RFID reader.
The Elyctis ID BOX – ID1 reader is the only one that fits the bill as, in spite of its small footprint, it is able to read both ID1 (ID card or driving license) and ID3 (ePassport) documents.
The Elyctis ID BOX – ID1 reads the e-ID document MRZ and accesses the RFID chip without movement. Building upon the longstanding experience of Elyctis, it ensures an accurate scanning of the MRZ, allowing access to the chip, complying with ICAO and Digital Identity standards. The Elyctis ID BOX – ID1 is the smallest professional e-ID document reader in the world, saving precious space on the desk of telecom and bank branches as well as hotels, car rental counters, airlines, travel agents, border control posts, etc. The new Elyctis ID BOX – ID1 allows software development by systems integrators using the same free-of-charge professional software development kit (SDK) as the existing Elyctis ID BOX range.
Unlike other solutions, the Elyctis ID BOX – ID1 is small and affordable, and being designed as a professional tool, it brings reliability, speed and cost-effectiveness to e-ID document control.
There are many situations in which having a dedicated professional e-ID document reader is quintessential:
• Financial institution branches have to perform a KYC (Know-Your-Customer) control,
• Election organization bodies need a quick, reliable and affordable means of verifying voters' identity,
• Telecom operators: SIM card vendors have to check the identity of subscribers,
• The hospitality and travel industry,
• Border control and many more …
Alexandre JOLY, CEO of Elyctis, declares, "When developing the ID BOX – ID1 series, we made sure we bring to users a tool perfectly adapted to their needs: being a professional reader, it ensures an accurate reading of all data, unlike a smartphone, and its small footprint and well-adjusted price tag fits the exact requirements of mid- to high-volume markets."
The Elyctis ID BOX – ID1 series includes the ID BOX 621, which includes the MRZ scanner and RFID reader and the ID BOX 642 combining the MRZ scanner, professional RFID reader, contact card reader and fingerprint scanner. Both products are readily available, both in desktop and OEM forms.
About Elyctis
Created in 2008, Elyctis mission is to supply system integrators with mobile and fixed hardware to access data of e-IDs (national identity cards, e-passports, resident permits, driving licenses). The company specializes in the development, industrialization, production and marketing of readers and terminals dedicated to Secure Identity Documents including e-passports, e-ID cards, e-driver licenses, … Elyctis has already delivered hundreds of thousands of professional e-ID readers, thanks to a longstanding expertise in eID projects, as well as hardware and software developments, especially in the combination of optics, antenna design, high security software and integration. Elyctis sells its products through its network of distributors and systems integrators, to whom it provides a sophisticated development environment to facilitate the use of its readers. Elyctis is headquartered in Pertuis, France, and has sales offices in Asia (Hong Kong) and Africa (Dakar).
More information at www.elyctis.com
Contact
Alexandre JOLY, CEO, +33 6 27 71 37 68, press@elyctis.com
Download .pdf press release